The Advantages of a Fabric Structure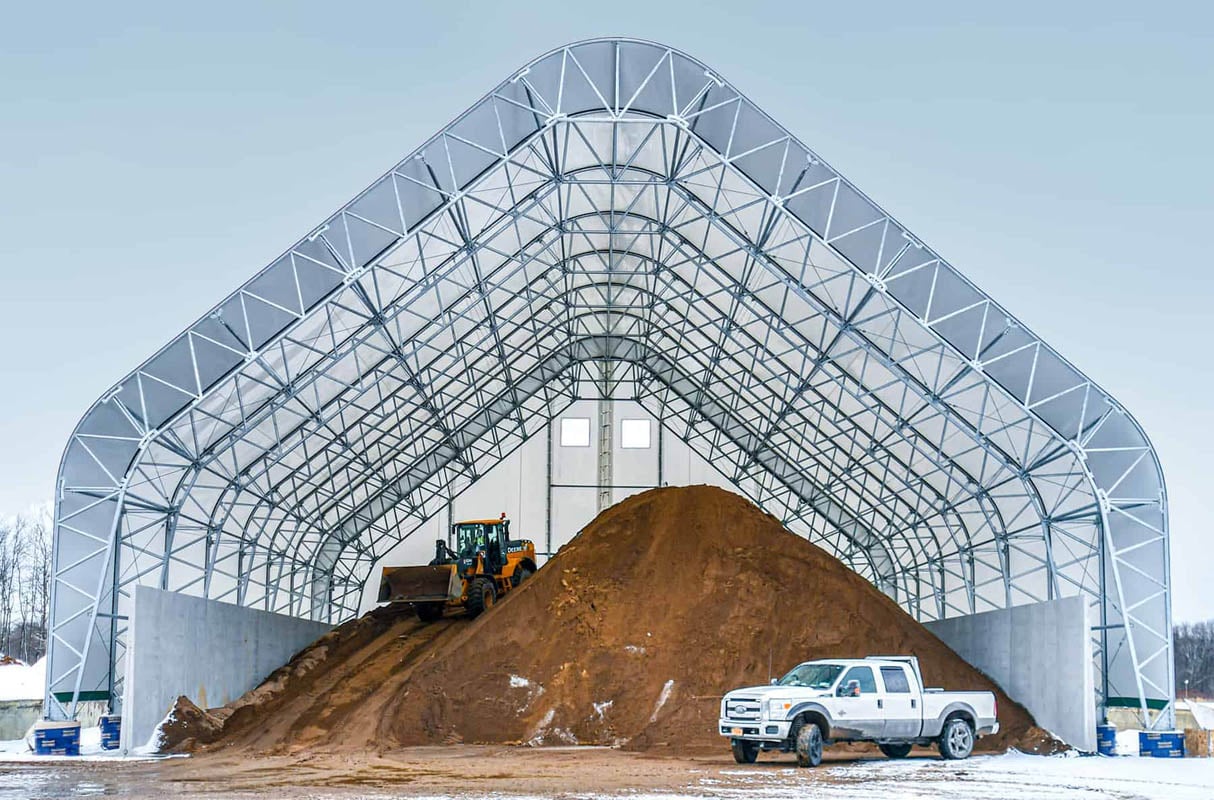 Fabric structures have been rapidly becoming the preferred building style for a number of different industries and operations. We review why these structures are an economical and long lasting building solution with a higher ROI.
Fabric roof systems
Unlike conventional buildings, for example, where the outer covering is often punctured thousands of times to attach the roofing and wall cladding, steel framed fabric structures are much more airtight reducing air and heat loss. The fabric cover has non-conductive properties that reduce the transmission of heat and cold, making the building feel warmer in the winter and cooler in the summer. The translucent properties of the fabric covers allow natural daylight into the building, reducing or eliminating daytime lighting costs, and creating safe environments for workers.
Fabric roof systems are more airtight, require no daytime lighting, and last longer than conventional steel or shingle roofs.
For a wood or steel construction building, the owner will need to add enough lumens of light to properly light the working area of the building during the day and night, consuming electricity every minute of use. A fabric building will require typically 1/3 of the lighting capital costs as the bright white underside of the fabric roof reflects and disperses the artificial lighting broadly and evenly, reducing shadows and reaching all areas of the building. In addition, the lights will generally not be turned on during the day in a fabric building, due to its transparency.
Ventilation
Fabric buildings feature a high roof design which results in a large volume of interior air space. In agricultural uses, this draws the warm moist air up and away from equipment, machinery, commodities, or livestock.
Clearspan interiors and large volumes of airspace provide improved ventilation and fresh air.
With the ability to offer side ventilation, end wall ventilation and roof ventilation, warm moist air, including odours, can easily be vented from buildings. In commercial, retail and industrial uses, the non-permeable fabric cover allows for increased control and air management. Ventilation and heating/cooling systems are easy to install and manage.
Construction time
Pre-engineered fabric buildings are ready to be shipped unless the building is a custom design. This allows a fabric structure to be erected in weeks instead of months. Customers can move into the building quickly, with minimal interruptions to daily operations. Choosing a fabric structure also reduces the costs associated with constructing the building.
Fabric buildings are often installed in weeks rather than months, reducing revenue loss from operating downtime.
Wood and steel buildings tend to have a labor intensive construction process. Steel buildings can be costly, difficult to ship to remote areas, can be time consuming to construct, and are essentially permanent structures. Fabric structures are engineered as permanent buildings and are also easily erected in remote areas because of their design.
Portability and temporary options
Fabric buildings are extremely versatile, making them ideal for temporary warehouses or portable storage buildings. Flexible foundation options allow customers to take down and move their buildings to a new job site, or store them until they are needed again.
Fabric buildings are the best option for portable buildings and temporary storage.
In addition, these types of foundations create little to no environmental impact. If the end user decides to move from the current building location to another, the site the building was constructed on can easily return to its original state.
Want to learn more about Britespan's fabric buildings? Download our Fabric Building Buyers Guide!