Britespan Embraces Temporary Foreign Worker Program to Aid Recruitment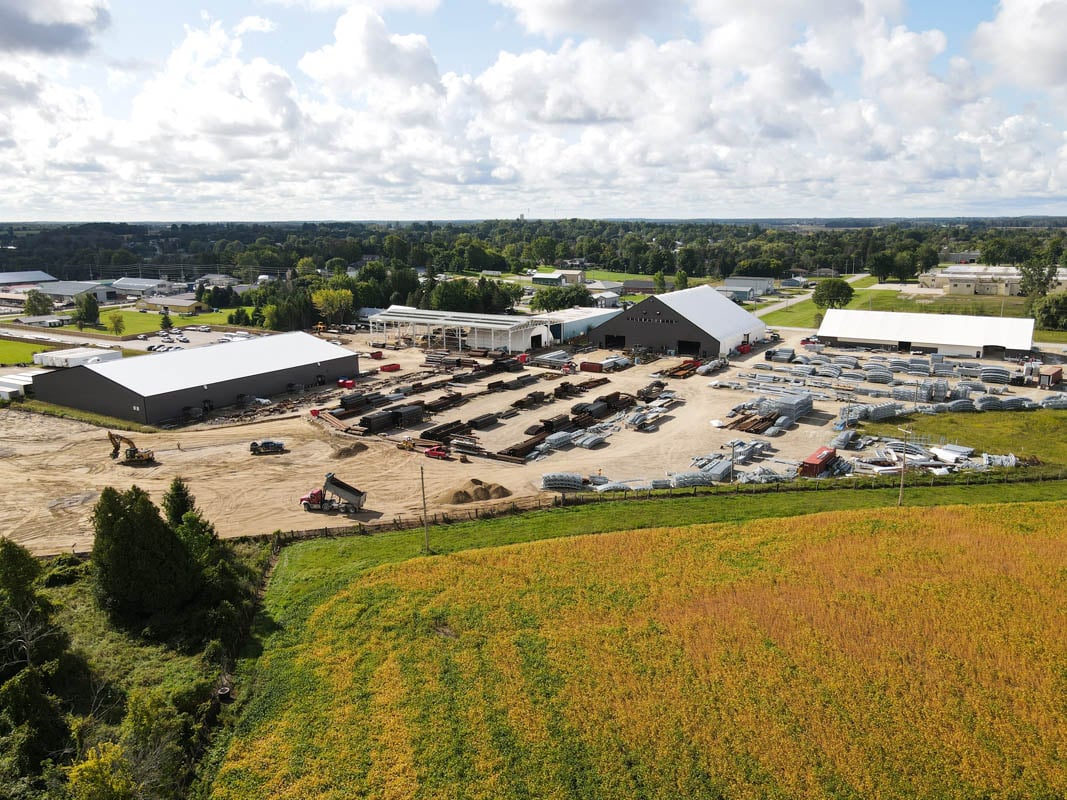 Britespan is a proud Huron County manufacturer, locally owned and operated out of Wingham, Ontario. Since its inception in 2010, Britespan has continued to grow its operating facilities, manufacturing capacity, and global markets served. Britespan has always prioritized growth and supporting job creation within their local communities; this remains a top focus moving forward while planning for future growth.
To prepare for the current and anticipated sales growth, expanding Britespan's labour force is the necessary next step in achieving those goals and meeting customer needs. To grow operations locally, Britespan requires the labour force to exist locally as well.
Britespan's number of employees has grown by 120+ positions since 2010, with 
additional growth of 12.5% in current recruitment needs. (See image below).
95% of this growth is Canadian and 89% is based out of Wingham.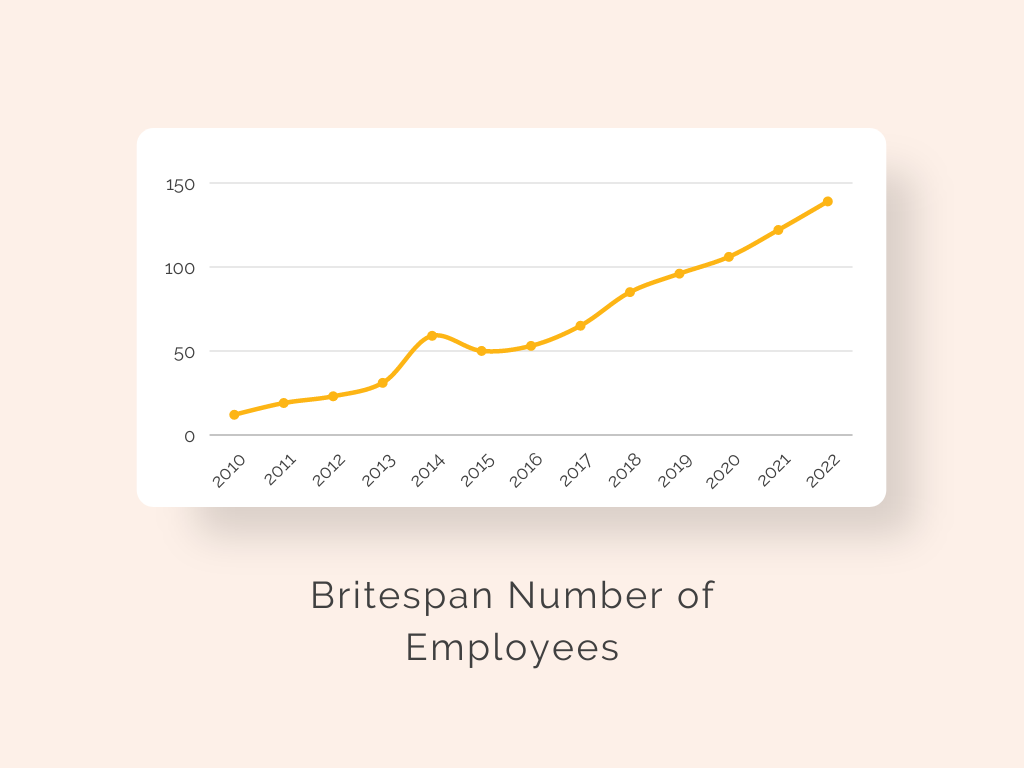 Recruitment & Retention Challenges

Several factors have made (labour) recruitment and retention challenging over the past three years, including a smaller labour pool, a competitive local labour market, and the overall drop in the labour market statistically as a whole.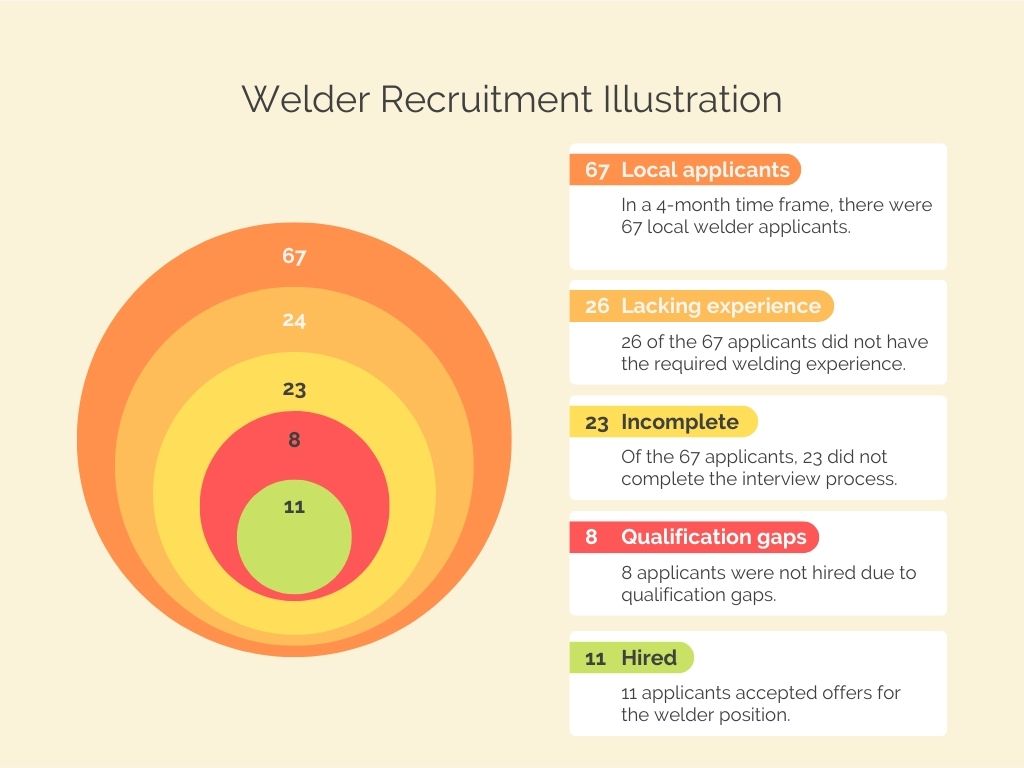 he Canadian labour market is tighter than before the pandemic and the job vacancy rate reached a historic peak in the 3rd quarter of 2021.
Much of the unmet demand is in low-wage occupations and, according to Statistics Canada, in November 2021 the Canadian manufacturing sector had a staggering 81,774 vacancies, directly impacting Britespan, which echoes (or only enforces) the local labour demand Britespan is facing.
Less Entering the Workforce

The anticipated gap between the Ontario population entering the workforce versus exiting the workforce leaves a shortage of 60,269 over the next five years and an additional 122,441 over the next 10 years for a total shortage of 182,710 in the next
10 years (see image below).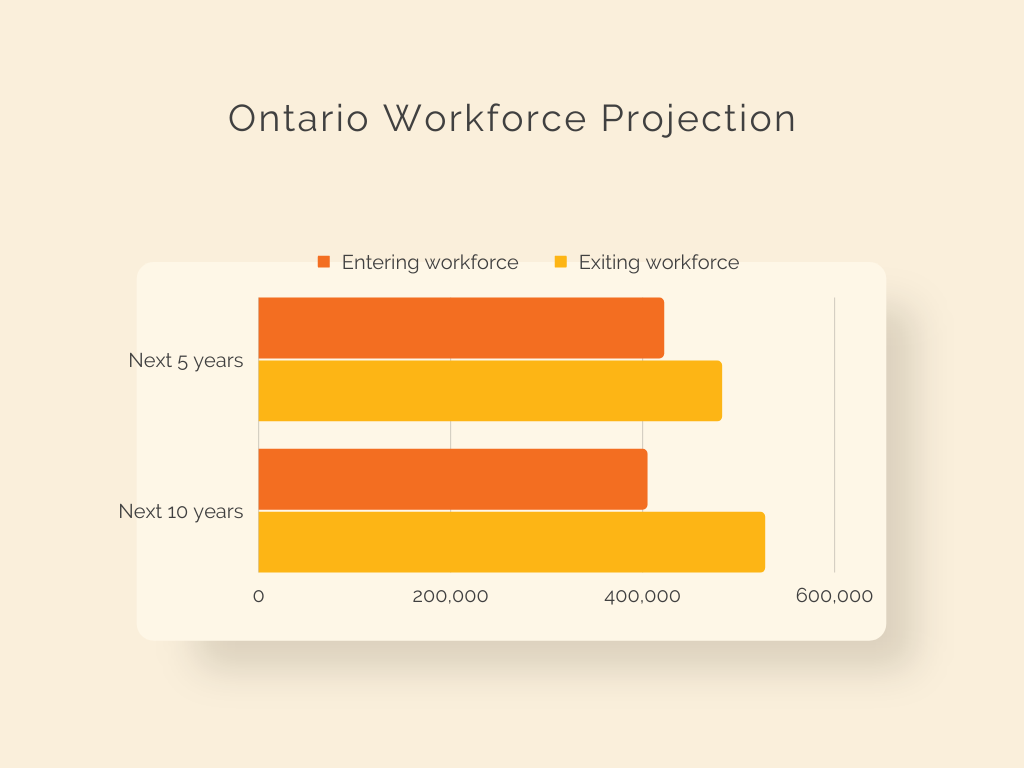 Proactive Recruitment

To address these recruitment challenges and meet our expansion requirements, Britespan is participating in the Temporary Foreign Worker (TFW) Program through the Government of Canada. The TFW Program allows employers in Canada to hire a foreign worker when Canadians or permanent residents are not available.
In 2020, TFW made up less than 0.4% of the Canadian workforce and will continue to make up a small percentage.
Participating in the TFW Program is a comprehensive and thorough process to ensure Britespan is doing everything it can to recruit locally prior to recruiting Temporary Foreign Workers (TFW). While being proactive to address the labour market challenges, Britespan's recruitment process will always look for local hires first. Participating in the TFW Program allows Britespan to continue to grow operations locally within Wingham, Ontario, rather than outsourcing manufacturing and production.
Skills & Experience

TFW is required to meet several criteria to be considered for the program, including a matched skillset and years of applied experience, and written and verbal English communications skills. Britespan is currently in the process of recruiting 12 TFW; four (4) skilled labourers to join the welding and manufacturing team on a two-year contract, and eight (8) general labourers who will join the distribution, manufacturing, and fabric production teams on a one-year contract.
The anticipated start dates for Britespan's selected TWF are in four to six months.
Britespan is actively working with local government, community groups, and community members to ensure a positive integration both for their current employees and the TFW.
Our Priorities

Language & Communication
Ensuring Britespan's current employees and the TFW have the communication tools and resources they need to work effectively and build positive relationships.
Public & Staff Relations
Open dialogue with the public and Britespan staff to address areas of concern and create awareness about the program, and the individual TFW who will be joining the team.

Housing
Coordinate safe, comfortable, and affordable housing that is within proximity to Britespan. A Labour Market Impact Assessment, Britespan must ensure that suitable and affordable housing is available for the temporary foreign workers we will employ.
Community Involvement
Liaise with local community groups to support participation in local events, sports and recreation, social groups, etc.
Healthcare
A Labour Market Impact Assessment, Britespan must ensure that the temporary foreign workers we hire in low-wage positions are covered by private, provincial, or territorial health insurance from the first day they arrive in Canada.

Community Welcome
Collaborate with local government to promote inclusivity in our community.
Inquiries and questions about Britespan's progress and plans regarding the Temporary Foreign Work Program through the Government of Canada can be made by emailing [email protected] or calling 519-912-1001 addressed to the below contacts:
Jennica Cottenie, ext. 222
Stephanie Towton, ext. 221
Sources cited in this document: Statistics Canada, Government of Canada, Britespan internal data